23 Istanbul Karabitsi is an exotic water pipe in your hand. Each page smokes out the alienation felt at the core of every being. Daniel Pendergrass blends karabitsi with a penetrating insight and evocative ambience that transport you to his very side

- Ian Ayres, Editor, Van Gogh's Ear



Sly, witty and redolent with haunting images, this is the voice of an assured poet.

- Dmetri Kakmi, Critical Eye



Daniel Pendergrass masterfully animates the vivacity of Istanbul and successfully draws a picture of the city where the past and the future meet...It's perhaps one of the greatest poetry collections ever published about the historical city.

- Etkin Getir, Editor-in-Chief, Istanbul Literature Review



This poem - for all its distinctive parts a single poem - deserves comparison to the work of C.P. Cavafy, not only because Istanbul was dear to Cavafy, but because an Alexandrian sensibility permeates it. It is formal but not mannered, patrician but unaffected. Daniel Pendergrass catches his readers up in that strange land where intent (and not the word) is heard. Unlike Cavafy, he has an expatriate's cool eye. In the midst of a street riot he "warms to the crime of outrageous happiness." 23 Istanbul Karabitsi is an important, ambitious work by a young American traveler whose Hellenic vision never fails him. The poems vary from lines like sea horizons to the electric Karabitsi XV, which is structured like a Calder sculpture

. - Djelloul Marbrook, author of Saraceno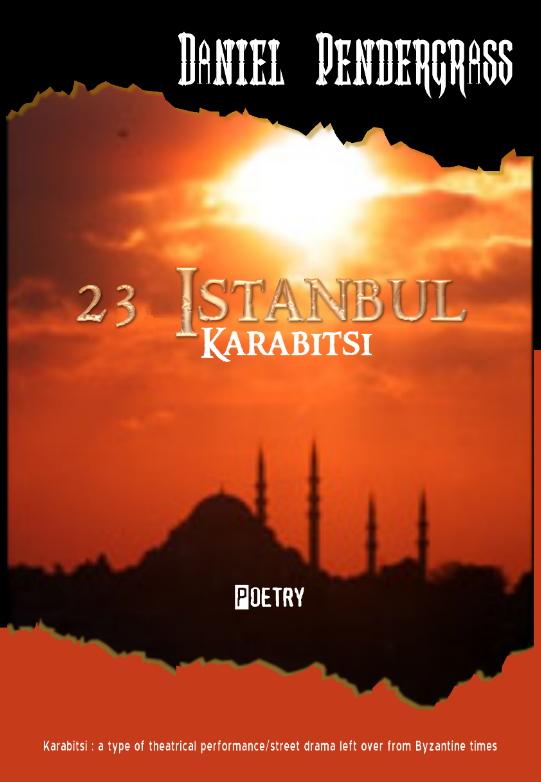 Daniel Pendergrass' first novel of poetry, 23 Istanbul Karabitsi, has been published by Arabesques Press of Algeria. You can order it online here. It is also available through outlets such as Amazon, Borders Books, Barnes and Noble, among others.
Links:
My Blog
Arabesques Press
Van Gogh's Ear